I love Mondays and the beginning of a new week :) It's usually the first slow morning at home after a hectic weekend and I enjoy it by staying in my pajamas way too long, scrolling facebook instead of beginning to clean the house and cuddling with my girl (as seen here!) instead of getting her up and ready for the day. So before I go tackle the sink full of dishes or the vacuuming or exercising I'm of course blogging. Does this count as procrastination????
I hope you all had a great weekend! Enjoy your Monday and use this day to Glorify God in whatever it is you are doing. Instead of feeling irritable or rushed in what you need to accomplish today I challenge you and myself to choose a joyful heart!
Check out this cute headband I made :) SUPER simple! Just buy a pack of those cheapo plastic headbands (I think they have them at dollar tree) and any silk flowers you like! Hot glue them on and add some cute buttons/pearls/beads and you're done! I've already worn it a bunch. Can't wait to make more!
I'm linking up today :) Hope to meet some new blogger friends!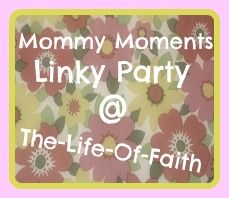 "/>