We all have stores we walk into and just LOVE everything inside. We love the paint color, the furniture, the bedding styles, etc. For me it's Anthropologie.Is there anything from Anthropologie I don't like??? Unfortunately no....that has yet to happen. I think I love this store so much because it's a mish mosh of vintage looking items that somehow work well together. This makes it really EASY to try and replicate....and very HARD to try and replicate. It should be easy since you would think you could put nearly anything together and have it work. But it's hard to find that balance they have so perfectly mastered. Where vintage comfy home meets classy shabby chic. They have it down to the right shades of color, wood, materials and art. But unless you're willing to literally drop a chunk of change (the bedding I love is almost $400, for the BEDSPREAD!) then you're left with scavenging thrift stores and yard sales to get the look you want. Which I actually think is pretty fun :) Next time you have a Saturday morning free check your paper for local listing of yard sales. You'd be amazed what you'll find!
I love this wallpaper from Anthro. I REALLY love the idea of using wallpaper to make a small space more interesting. It's also really trendy right now to put it behind your bed from the wains coating up to create the look of a headboard or behind book shelves for a splash of color.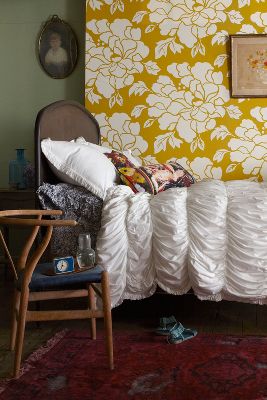 I like these napkins :)
And pretty much in love with this bedding....in every color. I've tried to get my mom to try and make it for me!!!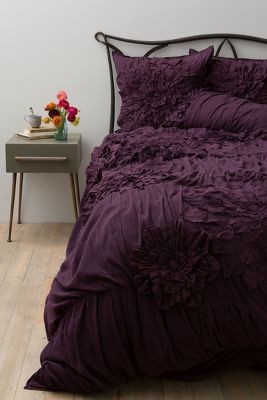 It's fun to create the look you want for a FRACTION of the price! Plus, it has more you personality. Happy hunting!